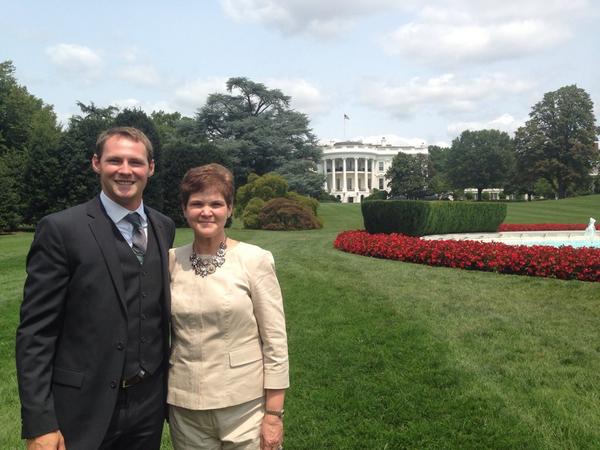 Tuesday, the White House and U.S. Department of Agriculture honored Quint Pottinger, a 25-year-old grain farmer from New Haven, and 14 others, as "Champions of Change."

Pottinger, who is also featured in the 2014 Corn Farmers Coalition campaign, was nominated for the honor by the Kentucky Corn Growers Association.

"I'm so grateful to be part of such an influential group of people," said Pottinger. "One of my goals is to have an effective change on the agricultural community that is helping feed the world. Being nominated and selected for this award is one milestone on the journey to achieving this goal."

The "Champion of Change" program recognizes leaders from across the country who are doing extraordinary things to build the bench for the next generation of farming and ranching. These champions lead in their industries and communities, inspiring others who want to find careers and a life on the land, and providing food, fiber, fuel, and flora around the world.

The program featured USDA Deputy Secretary Krysta Harden, who discussed efforts to ensure that beginning farmers and the growing ranks of agriculture - women, young people, immigrants, socially disadvantaged producers, returning veterans and retirees - have access to the programs and support they need. The event also included a discussion about how to continue growing and supporting the next generation of America's farmers and ranchers.

Pottinger, along with wife Leah, are the owners of Affinity Farms, a mixed row-crop and herb farm in Kentucky. He pursued his education at the University of Kentucky, majoring in agriculture economics and upon graduation connected with various agriculture groups in Kentucky, including Kentucky Farm Bureau Young Farmers, Kentucky Corn Growers, and Kentucky Soybean Association. Quint currently serves on the Kentucky Soybean Association board in a leadership education capacity.

The Pottinger family has been farming the land since Samuel Pottinger settled the town of New Haven in the late 1780s. Affinity Farms strives to combine the latest technology in growing row crops like corn and soybeans alongside vegetables. They sell their produce directly to consumers in local markets and see this as an opportunity to create a transparent dialog about the entire agriculture industry.